It's time to present the novelties of the 2021 season. And the first of them is the top one!
Now we have the first bike on a titanium frame, which is sure to become a trademark of the brand.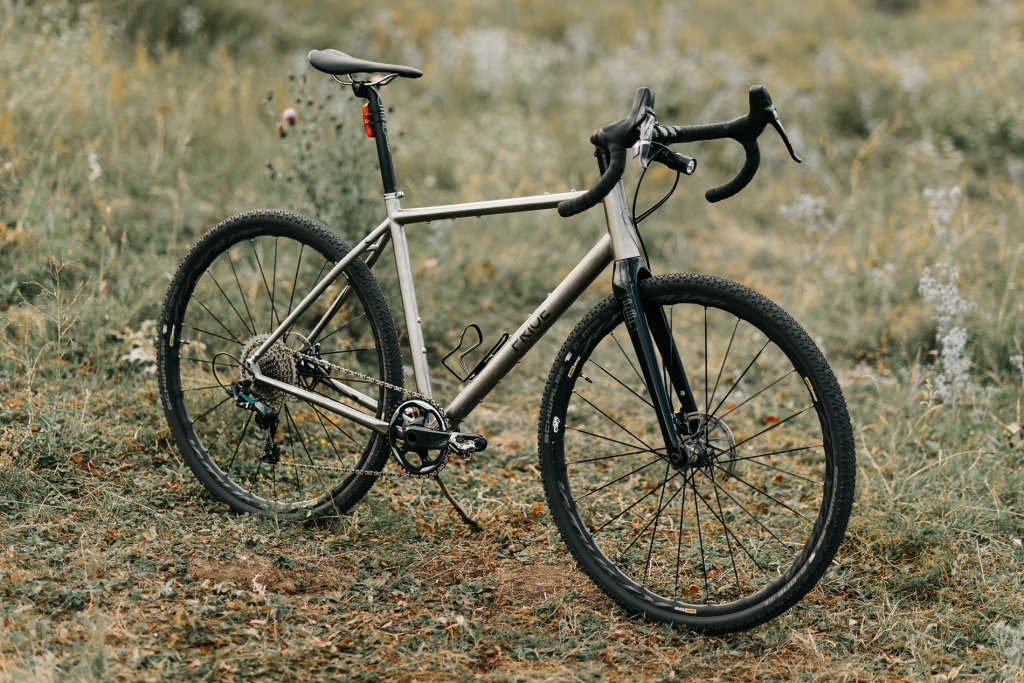 The Rocx series of gravel bikes has been modernized and supplemented every year, and now evolution has brought it to a new, titanium level. It means only one thing: you will have a bike that is not prone to scratches and corrosion because these are the properties of titanium, lightweight since titanium frames do not compete with either aluminium or chrome molybdenum bicycles in weight. This is a ready-made set of benefits that will allow you to go on a trip of any length and distance, regardless of weather conditions and road pavement. The frame has a large number of stack bolts and mounts for luggage, and its clearance allows you to install tires up to 2.1" wide. The recommended tire width for the Ti-Rocx model is 42-44c. That's why the Pride Ti-Rocx is about perfection and comfort, whatever your plans are.
Externally, the bike looks great: colour, clean frame, contrasting black carbon fork and all-round internal wiring that enters the frame through the headtube and exits near the dropout. That's why the Pride Ti-Rocx is about aesthetics. Every detail here deserves attention, every assembly looks perfect, every decision is justified. We've worked hard to create a bike that will serve its owner for years to come and never get bored. And if so, the Ti-Rocx is about love at first sight and forever.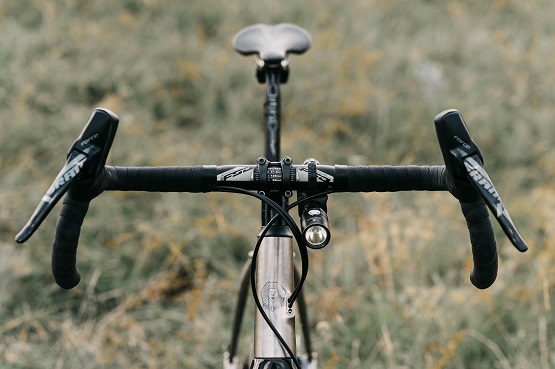 The Ti-Rocx specification has been chosen with the best offerings on the market in mind. These are components that have proven their worth and are designed for long-term, trouble-free use. Don't be misled by the components in the photo, as we have only fitted a sample with them. But the correct specification is available in the table below.
Titanium VS Carbon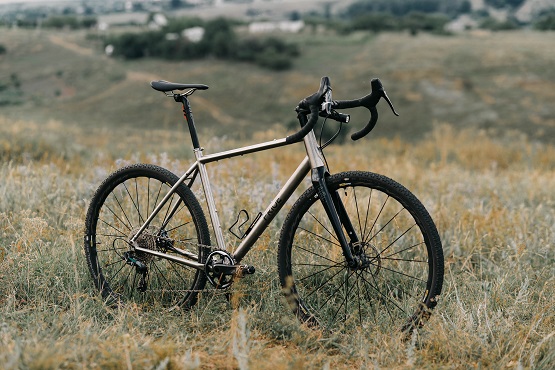 COMFORT
Titanium is very flexible in its structure. It therefore better absorbs bumps in your path. Carbon, on the contrary, does not deform at all, which gives greater rigidity and aerodynamics, but this, of course, is not about comfort.
However, it is important to understand that ride quality and bicycle fit depend on how the manufacturer has designed the geometry. The main thing here is the frame tubes. And it is their shape and geometry that determines whether the bike will be comfortable enough for the rider.
STRENGTH
When choosing the frame material, it is important to consider its strength and durability. It is therefore important to first answer the question of where and under what conditions the bike will be used. Carbon bike frames have a carbon epoxy fibre structure. They have a pronounced grittiness and will be comfortable for those who value stiffness and speed. And here, of course, it's worth reminding you that carbon is not very suitable for bicycle touring. Titanium, on the contrary, is tough and durable, and besides, it perfectly retains its shape.
WEIGHT
If weight is a key criteria, the frame material should not be a reason for concern. By the way, is the weight of a titanium touring bike frame with luggage worth considering? Apparently not. But overall, of course, the gravel Rocx weighs less than its aluminium and chrome molybdenum counterparts. The exact weight will be known as soon as the first commercial bikes are available.
The pre-order campaign runs from 08.08.2020 through 24.08.2020.
Pre-order procedure
To place a pre-order for a Pride Ti-Rocx bike or frameset, you need to write to us on Instagram or send a private message on Facebook, or even email to [email protected]. You need to select the size you want and leave your e-mail address. We will send you a pre-order agreement by post, which you will need to sign and make an advance payment of 20% of the cost of the goods following the payment details we will send.
Once the goods have arrived, we will inform you of their arrival and dispatch them free of charge to your address.
The arrival dates of goods are the deadlines. In general, the goods are expected a little earlier, but the exact dates are not known to us in advance.